Goals
Examine a poem as a corpus, like a body of linguistic data.
Linguistically analyse the words used in a poem.
Create a word list based on a poem.
Present linguistic findings visually using Wordle.
Lesson Plan
Wordle is a simple corpus tool which allows you to paste in text and create a 'word cloud' that displays the frequency of words by their relative size in a cloud. It's explained in more detail on the Wordle website. Take a look at the website to familiarise yourself with how it works.
This resource is designed to make use of Wordle in a lesson where the language of poetry is under discussion.
We'll be using a poem by Shakespeare in this resource, which can be downloaded as a handout from the bottom of this page.
Crabbed Age and Youth
Cannot live together:
Youth is full of pleasance,
Age is full of care;
Youth like summer morn,
Age like winter weather;
Youth like summer brave,
Age like winter bare.
Youth is full of sport,
Age's breath is short;
Youth is nimble, Age is lame;
Youth is hot and bold,
Age is weak and cold;
Youth is wild, and Age is tame.
Age, I do abhor thee;
Youth, I do adore thee;
O, my Love, my Love is young!
Age, I do defy thee:
O, sweet shepherd, hie thee!
For methinks thou stay'st too long.
This approach starts with a basic corpus task. By this we mean that, at first, we treat the poem as a body of data rather than as a meaningful poem. We will reintroduce the meaning later on in the study of the poem.
The class should split into team A and team B:
Team A will examine the word youth in the poem.
Team B will examine the word age in the poem.
Each team 'strips' the poem of all the words and phrases that relate to their word. They'll be making word lists. First, they should count how many times their given word, youth or age, occurs in the poem, and write it into their list that many times. They should then write other words or phrases that relate to their side, and they should write each one once for each time it occurs - so if a particular adjective occurs with youth three times, they should write it three times. Their lists can be written on a sheet first or typed directly on a screen and then pasted into a Wordle word cloud following the instructions on the Wordle website. Wordle will then produce a word cloud based on their word list. Possible word clouds that might result from such lists are shown below: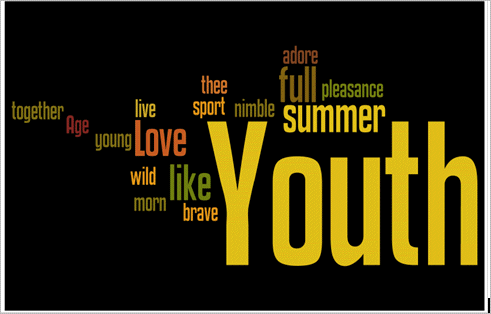 Once this has been done, a basic grammatical approach can be taken to the words on each side. Break the words down into nouns, verbs, adjectives and pronouns as a start (using context from the poem where necessary).
If this works easily enough, move on to grouping the expressions into phrases and clauses. What kinds of noun phrases or clauses appear around the head words?
Can each side come up with their own words which fit into the same patterns they've observed? Can they find 5 more adjectives for age and 5 more for youth? Can they find 3 more nouns for each? Can they write another 6–8 lines of the poem using these words?
Further work
Word clouds can provide a way into the themes of song lyrics, or the themes and images that are developed across an album or a whole body of work. While it's sometimes easy to lose a sense of perspective studying the lyrics of a band or performer you really like, there's quite a lot to be gained from pulling lyrics apart to see what they tell us.
By copying and pasting the lyrics of a song, album or range of albums into a word cloud tool such as Wordle, you can see patterns in the lexical choices and perhaps find recurrent images and themes that you hadn't previously noticed. This link takes you to an 'infograph' that compares the lyrics of Kanye West on his My Beautiful Dark Twisted Fantasy album to those of Bob Dylan on Highway 61 Revisited. Perhaps it's not the most obvious comparison but it makes for some interesting comparisons (and nice images).
Moving forward, students can also try experimenting with other texts, including the following:
Emails
Class essays
Newspaper articles
Poems
Short stories
Entire books
In addition, they can try creating other word lists from other poems. Have them look through a poetry anthology for poems that could be effectively re-presented as pairs of word clouds. Are there other poems with pairs of words set in opposition to each other, like age and youth here?
Full Preview
This is a full preview of this page. You can view a page a day like this without registering.
But if you wish to use it in your classroom, please register your details on Englicious (for free) and then log in!